A Guest Post by David Dunham
A Note from Bob: You're reading a guest post by David Dunham. Learn more about Pastor Dave by reading his bio at the end of this post. And read his post to learn more about 6 Top Books on Theology and Counseling. 
6 Books On… 
It is a great time to be involved in biblical counseling. The amount of thoughtful, fresh, and challenging literature that the movement is producing is astounding. It seems every week I stumble onto something new and insightful. Not everyone, however, gets paid to read books, and as a result doesn't have as much time as I do. So, when I think about my students, lay volunteers, and busy friends, I want to invite them to select the best volumes available on the various subjects out there. 
I thought it best to start with a foundational subject: theology of biblical counseling. This category introduces readers to the ground work of biblical counseling, the theological concepts that root the discipline in Scripture and real life. There are many books I could have chosen, but I selected what I consider to be the top five most significant volumes out today. The selection was based on relevance, uniqueness, depth, and breadth of content covered. Here are my top five choices in alphabetical order…
Christ-Centered Biblical Counseling, Edited by Bob Kellemen and Steve Viars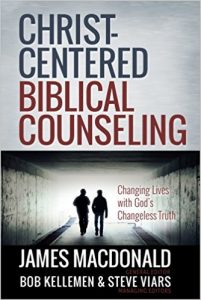 While not as detailed as Lambert's book (see below), Christ-Centered Biblical Counseling from the Biblical Counseling Coalition takes a number of a major doctrines and unpacks them within a biblical counseling context. They demonstrate the practical necessity for theological truth and do so with the help of a variety of writers from across the BC community. A wonderful and welcomed volume. 
The Dynamic Heart in Daily Life, by Jeremy Pierre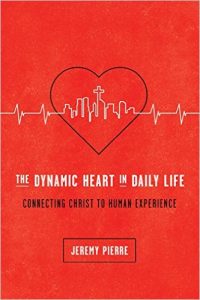 The Dynamic Heart in Daily Life is such an important book that it honestly should have been written 40 years ago. It sets out a theology of human experience that grounds an effective approach to helping people. Pierre interacts with major influencers of human experience but does so from within a biblical perspective. He helps readers understand the various ways people relate to the world, to themselves, and to God, and sets an important starting place for helpers. This is a crucial work! 
Gospel-Centered Counseling, by Bob Kellemen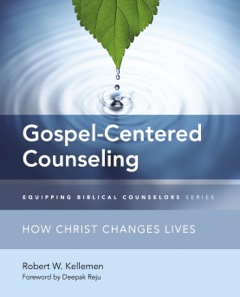 Gospel-Centered Counseling is both similar and yet distinct from Lambert's work (see below). While both serve as a type of systematic theology, Lambert's focuses on expressing the particulars of various doctrines, but Kellemen's uses the gospel narrative as a framework for a theology of pastoral counseling. Gospel-Centered Counseling is an incredibly thorough, unique, and interactive work. It invites readers to engage with the doctrines, and the narrative of redemption, and gives guided instruction in how to apply it within the context of our own counseling ministry. Gospel-Centered Counseling is a one-of-a-kind work from an experienced counseling educator. As part of a series, I highly recommend readers also pick up the lab manual which serves as the second volume in the set, Gospel Conversations. Together they serve as an impressive tool for equipping counselors. 
Our Sufficiency in Christ, by John MacArthur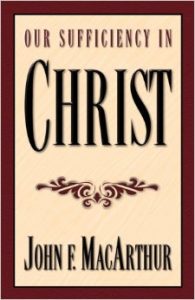 Despite being an older work, Our Sufficiency in Christ from MacArthur sets out the theological and practical case for the sufficiency of Jesus. Written as an accessible volume to a major theological idea, this work will serve to introduce readers to the very heart of the biblical counseling movement's theology and philosophy. In it, MacArthur also traces his church's own story of biblical counseling, including some of the dramatic difficulties that arose from their embrace of this truth. This is still a fantastic work and worthy of your time.
A Theology of Biblical Counseling, by Heath Lambert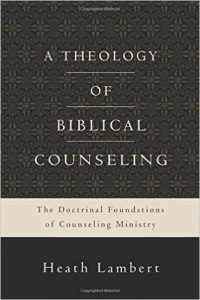 A Theology of Biblical Counseling is a newer work from the Executive Director of the Association of Certified Biblical Counselors, but it is a one-of-a-kind work. It serves almost as a basic introduction to the major doctrines of the Christian faith, but it has a particular bent towards their usefulness in biblical counseling. Lambert defines the doctrines, supports them scripturally, and clarifies their significance for counselor and counselee alike. An absolute must read for counselors, this volume will become my new text for our Introduction to Biblical Counseling course.
A Theology of Christian Counseling, by Jay Adams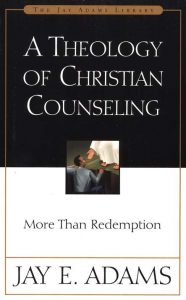 A Theology of Christian Counseling by Adams has to be on this list since he started the whole biblical counseling movement. While this volume left gaps that have been over the years filled by others, it sets the tone for all that follows. Introducing readers to the basic theology of counseling, Adams helps readers gain the important insights they need to begin to think about the philosophy and methodology of biblical counseling. This classic work is still an important volume.
Join the Conversation 
What other volumes would you include in this list?
Meet Pastor Dave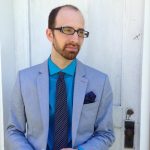 Dave serves as Pastor of Counseling and Discipleship at Cornerstone Baptist Church in the Detroit metro where he also directs a biblically-based addiction recovery ministry. Dave earned his M.Div. from The Southern Baptist Theological Seminary. Dave blogs, reviews books, and provides resources at Pastor Dave Online.